CTF gets a Lawless runaround!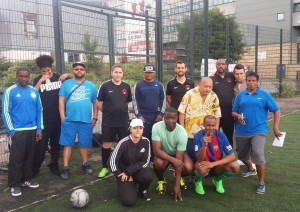 Midfielder Alex Lawless took some time recently to visit Coping Through Football and led a warm-up before delivering a passing and shooting session on the Score centre's 3G pitch for the enthusiastic participants.
The project has flourished over the past 10 years and Alex is the latest in the long line of O's players who have supported the scheme. "I was very impressed by the attitude and enthusiasm of the group," he said. "Some of the technique shown was impressive too and I enjoyed the session. I'm looking to get into coaching once I stop playing so running sessions is great practice for me whilst I'm taking my qualifications".
Sonia Smith, Project Coordinator said, "It's always a pleasure to have the Orient players visit us. The service users really do appreciate them coming down and it enhances the whole day. To have had Martin (Ling) recently and now Alex – it's a great privilege and we're looking forward to seeing Martin again in October for our annual World Mental Health Day tournament".
After the practical side of things, Alex stayed on to answer questions and have some photos taken. "I've really enjoyed the afternoon" he went on to say, "and I'd be happy to come back and run another session any time".