EFL's Day of Action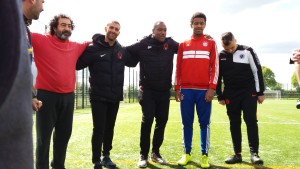 Leyton Orient proudly continued their excellent community work on the EFL's Day of Action on 25th April by inviting manager Omer Riza to a Coping Through Football session at Douglas Eyre Sports Centre in Walthamstow.
This 'Day of Action' gives each of the 72 clubs in the EFL the opportunity to show how their programmes and initiatives are influencing the lives of people in their respective communities. Clubs are utilising football to make a positive impact on people's lives through schemes focusing on health and wellbeing, education, and community outreach.
By doing this, the EFL's aim is to provide a national platform on which all EFL clubs can come together and show the work that they are doing and subsequently the impact this work is having. Such work is made possible by the many professional and dedicated club staff, plus the estimated £50 million that the EFL Trust and Club Community Trusts pump into key areas.
O's manager, Omer Riza, and Community Liaison Officer, Howard Gould, were in attendance to represent Orient alongside coach, Junior Gittens. On the day, the session saw a great turnout, with over 20 people coming along to spend the afternoon playing football and socialising in a friendly and fun environment.
After the warm-up had been completed the participants played an 11-a-side match. Riza looked very much at home as he joined in with the first half, during which the passing, dribbling and movement was of a high quality. At half-time, the players posed for a group photo with Riza whose enthusiasm and positivity throughout the event was highly infectious.
Afterwards, Riza said: "I love to come down to things like this. It's important that people in the sports industry give their time to individuals. It's nice to come down and see them carefree, playing, enjoying, and it's just nice to be part of it today."
Sonia Smith, Occupational Therapist and winner of a BAME Community Award for her work with the project, said: "We were very honoured to have the Orient manager attend. I told the group members that Omer was coming down and we've had the highest turnout ever. Clearly, they were highly motivated to get a chance to meet the manager and very excited to play with him. They were really focused on their football and I saw them trying their very best to show him their skills. We were very honoured to have him here and he is welcome to come anytime."