World Mental Health Day celebrations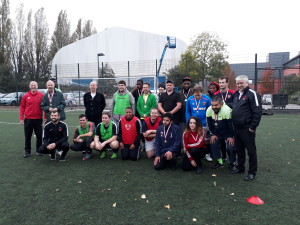 In celebration of World Mental Health Day 2017 Coping Through Football held its annual 6-a-side football tournament on 17th October at the Score Centre in Leyton.
The Coping Through Football project is about inclusion and creating an environment where all participants feel equally valued. In recognising World Mental Health Day we are promoting these values.  WMHD continues to remind us of the ongoing need to draw attention to the significant barriers, stigma, and discrimination faced by anyone experiencing mental health issues.
Despite the storms being experienced in other parts of the country, the weather was ideal for football. So with teams made up on the day, what followed was an exciting tournament.
Amongst the spectators was Martin Ling, Leyton Orient FC's Director of Football and first team player Alex Lawless, who accepted the invitation to referee the final match of the tournament.  The tournament winners, and runner ups, were presented with medals from Alex and Martin.
We were also joined by Wayne Walton from Forest Radio who interviewed participants, staff and guests about the project.